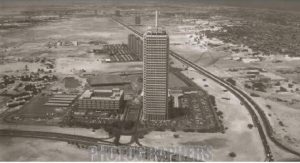 Dubai Electricity Company was my first employer. I was honored to be recruited in September 7th 1991 together with three other brilliant UAE nationals as Graduate Trainees. We were the very first four GTs and luckily did not realize we were Dubai's First Energy Pioneers.
After completing four months of orientation program, I was privileged to choose my preferred division and department. Without any hesitation and in spite of my humble academic achievements, I selected to work at the most technical, most complicated and the farthest division of all.  I selected to work in the Instrumentation and Control Department at the Jebel Ali Power and Water complex, the smallest department in any power house. Meaning, I chose to drive daily 40 minutes when I could have chosen to work at the Headquarter and be 15 minutes from home. By the way, Sheikh Zayed's Highway did not exist yet.
We say "The closer to the eye the closer to the heart", but I selected to be in a place that is the furthest from the Headquarter. Some of my friends considered me a fool to miss the opportunity of being close to the management and close to the city (home). But I decided to trust my instincts and swim against the currents. I ended up choosing to be closer to the core of the business and in a department that is closest to my Electronics Engineering Technology Bachelor degree.   I did the right thing right.
On my first day of work, I recall driving through the gates of station 'D' full of the fear from the unknown. As I walked towards the station, I could not help noticing so much of details that I could not understand and asked myself "When am I going to learn all of this?!"
First thing, I received a helmet, safety shoes, gloves, uniforms, safety glasses, ear muffs, a torch and a safety manual. Those days, no one used these safety gears and it was very normal to walk around the plant without a helmet; something that cannot be imagined today due to huge steps taken by Dubai Electricity & Water Authority to be recognized as one of the world's leading companies when it comes to safety.
I started my Instrumentation and Control Engineer training program prepared by highly experienced expat Engineers. The huge experience gap was a great communication obstacle. I was being treated as a section head while I should have started as a technician. Obviously, no detailed training program existed and the program was based on job shadowing. The organization relied greatly on external technical and management training.
I was not smart but I was very serious about my work. I was a hard working Section Head starting my day early and leaving late. My casual leaves and sick leaves were almost nil.  I never asked for a grade, designation or salary increase. I used to focus on my tasks and dedicate myself to the plant. I never challenged anyone but continuously challenged myself and I always saw myself less than others. I was never happy with my performance.
Turned out my behavior was highly appreciated by the management, while it was mocked and criticized by some of my UAE colleagues. As a result I continued growing and climbing the management ladder until I ended up being the Executive Vice President reporting to the Managing Director and the CEO. My hard work paid off.
In 1993, I was nominated to attend an external training on Safety where I learned the absolute necessity of wearing safety gears. I reported back to duty issuing a memo to my staff, less than 15, to observe safety rules and to wear helmets and safety shoes while working at site. Could you imagine the irony of only 15 I&C employees wearing helmets among more than 800 staff at the power complex?! It was not surprising to receive few of them within couple of days begging me to allow them work without helmets as everyone was laughing at them in the plant.  I felt very sorry for them but could not stop doing the right thing right. Slowly, safety culture improved and everyone wore a helmet. Looking back, I am proud of my decision to not follow the heard.
Being a pioneer is not easy but it's an opportunity to create a legacy.
I raise my hat for my brave 1993 I&C team. I am proud of you.