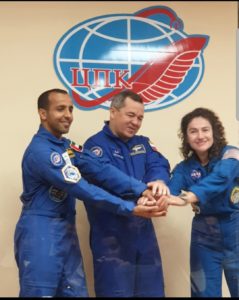 UAE is geographically small, but has a universal vision.
UAE is historically young, but has a global mission.
We are the world and we are the hope. We are a proud Muslim majority country that peacefully embraces many cultures and nationalities.
Oil and Gas is a golden program. It's a gift that sparked our passion, fuels our mission but can't achieve our universal vision. Other and more sophisticated programs were needed.
So we raised the bar, courageously took the lead and embarked on to the Nuclear program. We are proud to be part of the nuclear community.
Today we have humbly decided to embark on to the most sophisticated program known to mankind. Today Hazza, a brave Emirati, is travelling to space on behalf of all of us to honor the souls of our founding fathers and of those who sacrificed for our flag. We are proud to be part of the space community.
Why Nuclear? Why Space?.
While these programs may seem to scepticals as meer adventures, to us they are necessary environments to raise our competent future generation. As Oil and Gas program gifted to us a golden generation, nuclear and space will gift us our diamond generation. Yes, we are investing in our future generations.
My dear UAE, stay beautiful as usual.