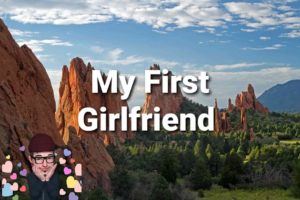 My first encounter with a young and beautiful American female was somewhere around 1986, a year after arriving in USA as an undergraduate student. I was not religious, but from a conservative family that did not approve friendships between opposite sex.  Neither being in a free society that blessed sex before marriage nor being thousands of kilometres away from my family's eyes seemed to really matter. I was determined to respect our family's values despite being a minority even among my own people and the difficulty to ignore so much beauty in the air. Trust me, it was not easy to hang around my own countrymen and hearing stories after stories of their eyesome girlfriends. Nevertheless, I remained to be known for resisting pleas or advances and to the idea of love through isolation. Back then, I successfully used social distancing to avoid love and anything else that lead to sex.
That night, a friend of mine invited me to dinner and I was supposed to be his only guest. He knew very well that I did not feel comfortable socializing with women.  He was busy cooking dinner for the two of us when the doorbell sounded, and he asked me to open it. When I did, I encountered a stunning blond girl who said "Hello" and helped herself right to the kitchen and kissed my friend. "This is Cindy" he said with a smile on his nervous face.  "You know I don't do this!" I mumbled in Arabic and headed to the living room to continue watching cable TV, mostly movies or MTV and VH1 music channels.
Shortly, the blondie joined me, and I continued pretending to watch TV as if she did not exist. Truth is that her beauty was distracting but I was exceptionally good in hiding my instability. Suddenly she cracked open and started bombarding me with many questions that I enjoyed answering while looking at her pretty face until she dropped the tough ones:
She: Do you have a girlfriend? "No" I replied.
She: Do you go out (night clubs)? "No" I replied.
She: Then what do you do other than going to college? "I practice Taekwondo".
By now, I knew I sounded very boring to her.  She carried on:
She: Are you a gay? "No" I replied.
She: Then why you don't have a girlfriend? "Because I expect my wife to be a virgin. It won't be fair if I don't keep my virginity" I nervously replied.
She did not show any emotion listening to my strange answers and I don't recall us talking much after that. I was kind of intrigued by her openness and deep inside wished to talk to her again, as there were a lot of questions for me to ask. Months later, the same friend took me to a shopping mall, where she happened to be working, but I didn't know that until we entered a shop. The moment she saw me, she ran towards me and hugged me so tight as if we were buddies. It felt good. She kissed me on the cheeks and looked back and proudly told her shop mates:
She: This is the guy I told you about. The one who is saving his virginity for his wife?!
That day I learned that I wasn't the only one who was exceptionally good in hiding my instability and shocks. It turned out that she was shocked and totally unbalanced hearing my answers to her questions. It was obvious that she admired my answers and position, despite the vast differences between our two cultures. She dreamed of someone treating her like that.
Cindy and I ended up being soulmates. She never felt safer with anyone else. In fact, she shared all her secrets with me, including the ones related to her mysterious relations with my countrymen. One day, a group of us were watching the American football in my friend's apartment when she joined us. She didn't hesitate to lay her head on my legs and watch the game. When her boyfriend asked her why she is not setting next to him, she replied:
She: Because Khalid is the only one among you all who smiles for me without expecting anything in return.
Decades later, I told my story to my American boss and he smiled and said: Girls are like that, they trust most those who don't have sex with them.
Those days, we were reckless and didn't care to know our American friend's family names and addresses. All I know are the first names. That's why, I have lost track of Cindy and couple of other girlfriends. Its hard for me to find them again, but wherever they are, I just wish that they are safe and happy.
So dear Cindy, Michael and Sandy, until we meet, stay beautiful as usual
Miss you all!